No Credit Check Loans - Online Approval
We connect you with a network of reputable direct lenders so you can get a loan quickly.
Sometimes you need a little bit of extra financial help to get through a challenging situation, and we offer no credit check loans that can do just that.
At Slick Cash Loan, you can get online no credit check loans on the same day regardless of your financial history, so you can focus on moving forward. While other loan providers are very selective, we focus on providing convenience for our customers.
What Are No Credit Check Loans?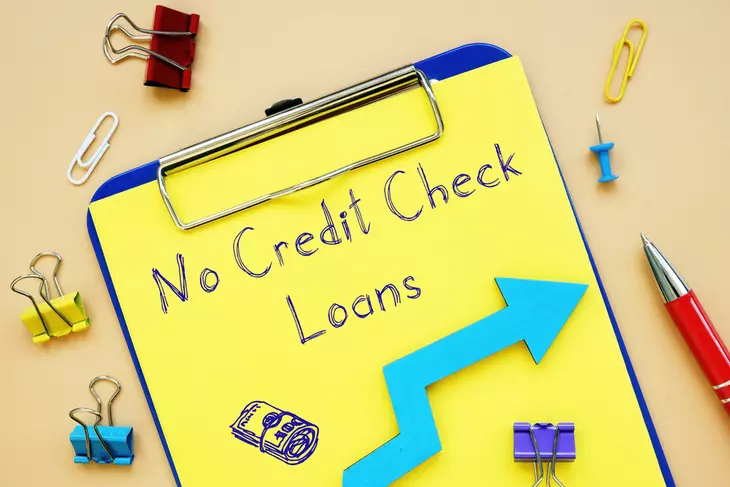 A no credit check loan allows borrowers to qualify for a personal loan without traditional credit score checks. Banks and other classic lenders usually perform a hard credit check to examine borrowers' creditworthiness.
A hard credit check involves scrutinizing the loaning and repayment history, defaults, delayed payments, and other vital records. You probably won't qualify for traditional loan products if you have a bad credit score and a history of delayed payments, defaults, and underuse of provided limits.
No credit check loans involve a soft credit check, examining aspects that don't affect the credit score. Lenders that offer such loans check for current employment/income statures, unpaid loans with other companies, and recent repayment history.
The lenders in our network don't need to review your FICO score or detailed credit reports to assess whether you qualify for a loan. Most direct lenders disburse the loans within the same day.
How Do No Credit Check Loans Work?
No credit check loans have a simple online application process with same-day disbursement. Applicants must provide personal information, including name, date of birth, address, employment, income, and bank details.
Our partner lenders will then review/verify the information and perform a soft credit check to assess how much the borrower should receive. The soft check reviews current loans, recent repayment history, and overall credit utilization.
Once the check is complete, lenders will immediately disburse funds to qualifying borrowers.
Types Of Online Loans With No Credit Check
No credit check loan products can fall into various categories and sub-categories, including secured and unsecured loans, payday loans, and personal installment loans.
Before releasing funds, secured loans require collateral, such as a title for a car, land, or jewelry. The collateral eliminates the need to check credit information because lenders can recoup their debt using other means if the borrower defaults. Unsecured loans don't require collateral and usually involve soft credit checks.
The network of direct lenders associated with Slick Cash Loan offers two popular types of no credit check loans:
Payday Loans
A payday loan is a short-term borrowing option that allows you to receive funds within minutes. It's a personal loan you receive based on how much you earn, and lenders recoup the principal and interest from your next wages/salary/income.
Most payday loans come with a two-week window and involve minimal checks and steep interest rates. They suit borrowers with a guaranteed income in need of urgent and unplanned cash.
Personal Installment Loans
Personal installment loans offer better terms and longer repayment durations than payday loans. The borrowed amount is repaid over several months, which reduces the monthly installment amount.
A smaller bill is more manageable since you don't have to pay everything at once. Personal installment loan lenders also provide a better customer experience than the average payday lender.
Quick Online Application At Slick Cash Loan
When you need access to money quickly, a credit check can not only slow down the loan application process but can prevent you from receiving a loan altogether.
Having a bad credit score can trap individuals needing money as they are unable to improve their score because larger lending companies and banks refuse to approve their loan applications. Luckily, at Slick Cash Loan, we offer online loans with no credit checks.
If you need to take out a short-term loan, chances are you're pretty busy, and you might not have time to go into a bank and fill out a bunch of forms. That's why the entire application is online at Slick Cash Loan.
The process is very intuitive, and you can complete it quickly, so you can move on with your day instead of missing out on important work or family events. You can also complete your application anywhere.
Loans With No Credit Check Up To $5,000
Many other online no credit check loans only provide limited funds, but we know that this sometimes isn't enough to help you solve your problems. That's why we offer loans up to $5,000, so you can get enough capital to pay for the important things in life.
The amount of money you'll be approved for will depend on your application, but when compared with other loan providers, we offer much more flexibility.
No Credit Check Payday Loans With Guaranteed Approval Through Slick Cash Loan
No lender offers a 100% guarantee, so finding no credit check loans with guaranteed approval is virtually impossible. Nonetheless, some lenders are known for high approval rates and don't perform hard credit checks for their payday loans.
Other loan providers make you wait days or even weeks for approval, but we know that time is crucial. When you have an unexpected expense, sometimes you need to take care of it right away, and you can't afford to wait.
At Slick Cash Loan, the online loan process works quickly, so you can get your loan right when you need it. Once you've been approved, you will have access to your funds right away.
Why Do Lenders Check Credit?
A credit check is vital for lenders looking to avoid defaulters. Every loan you borrow, including student loans, credit cards debts, and house mortgages, is recorded. As a result, you'll build a stronger credit score when you repay the loan as required by its terms.
If you default or make late payments, you'll suffer penalties and a bad credit score. Lenders perform credit checks to assess the risk of loaning a specific client.
Credit checks allow lenders to determine if you qualify for a loan product and what the terms should be. Borrowers with a good FICO credit score will get higher loan limits and lower interest. Those with average credit will get lower loans with increased interest.
If you have a score below 580, you may struggle to get any loan since traditional lenders recognize borrowers with bad credit as untrustworthy. However, you can still qualify for no credit check products.
Slick Cash Loan Offers Loans For People With No Credit
Everyone makes financial mistakes in their life, but unfortunately, sometimes those mistakes can limit you later on. We know that your credit isn't necessarily a reflection of your responsibility as a person, which is why we offer no credit check loans for our customers. This makes the approval process faster. You won't have to worry about hard inquiries that could drive your credit score down even further.
Improve Your Credit Score With Monthly Payments
For individuals with poor credit ratings, applying for multiple loans can decrease their credit score further, as credit scores are affected if they receive multiple credit checks in a small amount of time.
This can trap people requiring a loan, as they are stuck being unable to secure a loan due to their credit score, which is constantly decreasing. Applying for an online loan that doesn't require a credit check can bring individuals out of this trap. In addition, if the borrower makes the agreed loan payments on time, their credit score will improve.
Therefore, taking out a no-credit-check loan is an excellent option for individuals looking to improve their credit rating.
No Credit Check Loan Requirements
In general, an individual with little or no credit history is a suitable loan applicant if they satisfy the following criteria:
Are 18 years or above in age
Have a permanent US address and are a US resident
Can provide valid contact details, such as a mobile number
Currently employed with a steady monthly income
Own a bank account for the direct deposit of the loan
Great For Emergencies
When you need funds urgently, a short-term loan can help you get what you want. There are so many reasons you might consider taking out a no credit check loan. These include:
1. Medical bills
If you don't have insurance - or your insurance doesn't give you the coverage you need - then medical bills can get very expensive, very quickly. Taking out a loan will get medical providers off your back, so you can focus on what's most important - taking care of your health.
2. Childcare
If you have a family, you know how important it is for all family members to be healthy and happy. When times are tough, taking out a personal loan is an excellent way to pay for their education or general living expenses until finances smooth out.
3. Business expenses
Starting your own business is challenging, and it comes with its natural ups and downs. However, you can use a no-credit-check loan to get a little extra cash for an important new project that could take your business to the next level.
4. Consolidating existing debt
Suppose you're struggling to keep up with multiple payments from several creditors each month. In that case, you can use an online loan to pay them off, and then you only have to focus on making one payment.
Who Needs Loans Without Credit Check?
Online loans with no credit check are not just suitable for individuals lacking a credit score or who have a bad credit score. Loans that don't require a credit check can be helpful to people who need money quickly as the loan application process is much shorter than applying for a standard loan.
For example, when something as essential as a water tank or car stops working, an online loan can help individuals access the money they need to fix it and prevent the issue from affecting their everyday life.
Key Takeaways About No Credit Check Loans with Guaranteed Approval
No credit check loans with guaranteed approval offer applicants a chance to get quick financial assistance while they wait for their invoices and salaries. Choosing reputable lenders with huge limits, low-interest rates, and better policies are crucial when looking for a payday or installment loan. Precisely what you'll get with Slick Cash Loan.
Apply for Guaranteed No Credit Check Loan Today with Slick Cash Loan
No credit check loans are a life-saver if you choose trustworthy lenders with transparent terms and reasonable interests and fees. At Slick Cash Loan, you'll find an extensive network of reliable direct lenders offering no credit check loans across the US. Borrowers looking for such loans can complete fast and simple online applications and receive funds within the same day.
Frequently Asked Questions
Can I get a loan if I don't have a job?
Having a steady income is a significant indicator of your ability to repay the borrowed amount. So it is a mandatory requirement for you to have a job to qualify for no credit report check loans from Slick Cash Loan.
Do I need a bank account?
Yes, Online lenders partnered with Slick Cash Loan will require you to have a bank account before accepting you as a borrower.
Can I get a loan with a soft credit check?
Absolutely yes. Most financial institutions consider bad credit to be lower than 580. In such an instance, getting a bad credit loan for personal or business purposes can be hard.
Luckily there are other options to getting a bad credit loan without having your credit score checked, popularly known as no credit report check loans.
Bad credit loans with a soft credit history check allow you to borrow up to a certain amount without worrying about rejection due to not having the minimum credit score. Lenders that offer loans for people with poor credit scores have other requirements to determine your eligibility and loan amount.
How fast will they be approved?
Loans without any credit report checks are approved instantly. Some may take a few hours to process, but most will be approved quickly. Fast approval is one of the significant benefits of loans for poor credit scores from Slick Cash Loan.
Will it be quicker than a bank loan?
Loans without credit report checks are faster than bank loans and loans from credit unions. Bank loans require much documentation that can slow the lending process down and affect your credit score.
People choose to get a loan without any credit report check from Slick Cash Loan because of its super easy process. In just a few minutes, you can have money in the bank.
How will I get the money?
No credit report check loans from our online lenders are deposited directly into your bank account on the same business day. Therefore, it is a must that you have a bank account.
How will I know if I am approved?
Once approved, you will receive an email or text message indicating that your loan is approved. These notifications should arrive quickly, so make sure you keep an eye out for them.
What can I purchase with a no credit check loan?
When approved for a no credit check loan, you can spend it on anything you wish. Many people pay bills, buy groceries, or purchase gifts using this money. However, the sky is the limit when it comes to what you can buy with the money you borrow.
What is the disadvantage of no credit check personal loans?
The main disadvantage of loans with soft credit history checks from major credit bureaus is the unreasonably high cost. Loans with no credit check come with high-interest rates.
An installment loan, cash advance, and payday loans are examples of no credit history check loans, which are prohibitively expensive. In addition, such loans can trap you in a debt cycle since you will be obliged to borrow more to clear the debts.
What are the advantages of no credit check personal loans?
Personal loans with a soft credit history check have an easy application and are usually approved quickly. In addition, there are no penalties for early repayments.
Making your monthly payments on time helps restore your credit score since the payment activity is reported to major credit bureaus. This enables you to get a better deal next time you borrow a no-credit-check loan.
Are loans with no hard credit history check recommendable?
Unfortunately, an individual with a poor credit history is highly unlikely to qualify for low-interest unsecured loans. Therefore, lenders do not conduct a hard credit check since they know you need to access a loan with no credit history.
Borrowing loans with no hard credit history check from major credit bureaus depends on your urgent needs. And therefore, it is recommendable only if you are comfortable with the high-interest rates.
Check out the following location based resources where we can help you get access to online lenders that offer loans without hard credit checks: Alabama, Alaska, Arizona, California, Colorado, Connecticut, Delaware, and Florida.