No Credit Check Loans
No credit check loans from Slick Cash Loan are an option to get emergency cash with a poor credit score. FICO score does not factor into the lender's decision to extend credit.
When you need money but have less-than-stellar credit, looking for a loan can take time and effort. No credit check loans are lender-issued loans that are not approved or denied based on your credit score and are an excellent option for people who:
Have bad credit
Have no credit
Are you trying to establish good credit
If you fit into one of these financial situations, it may be harder to obtain a traditional loan from a bank or credit union. In addition, most traditional loans require a FICO credit score of 670 or more; if your credit score is below this, you may need to consider other options.
What Is a No Credit Check Loan?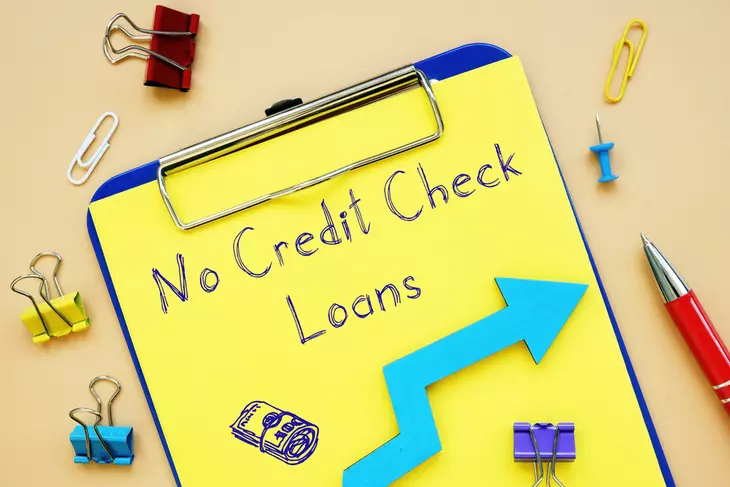 No credit check loans are essentially what the name says: your FICO credit score doesn't factor into the lender's decision to extend your credit. However, remember that higher interest fees, stricter loan terms, shorter repayment periods, or other fees may be associated with the loan.
No credit check loans involve a soft credit check, examining aspects that don't affect the credit score. Lenders that offer such loans check for current employment/income statures, unpaid loans with other companies, and recent repayment history.
These loans may be an option if you need fast cash for an emergency, like a major car or home repair, as the approval turnaround time is often shorter than a traditional bank loan. In addition, lenders don't make a hard inquiry about your credit report. But they will still give you the money with some guarantee.
How Do No Credit Check Loans Work?
No credit check loans have a simple online application process with same-day disbursement. You will be asked for your personal information, like your name, date of birth, address, employment, income, and bank details.
Online lenders will then review/verify the information and perform a soft credit check to assess how much the borrower should receive. The soft check reviews current loans, recent repayment history, and overall credit utilization. Once the assessment is complete, lenders immediately disburse funds to qualifying borrowers.
What Are My Options For a No Credit Check Loan?
Depending on your situation and how good of a loan candidate you are, you may qualify for one or more of these short-term loans. These loans don't require a hard credit check or tons of paperwork. There are many options, including ones that you can apply for online.
Installment Loans
Installment loans are loans that are repaid in installments, hence the name. Usually, you'll make a monthly payment, but sometimes the terms may be weekly. Read the loan terms carefully because many lenders may assess a late fee, even if your payment is only one day late.
Check the interest rates for your loan options. High-interest rates can quickly make you owe much more than the initial loan amount. When interest rates for the loan are higher than 10-15%, try to pay the loan off as quickly as possible.
Credit Union Loans
If you are a credit union member, you can apply for a loan through the credit union. Many offer more favorable terms than a bank for members; even nonmembers may be able to get a secured loan from a local credit union.
A credit union may consider other financial information besides a credit score, such as whether you are a longtime member in good standing or consistently have direct deposits (like your paycheck) into your account. Ask your customer care representative at your credit union about your options. For example, they may agree to a loan if you repay it as an automatic withdrawal from your account.
Payday Loans
A payday loan is a short-term borrowing option that allows you to receive funds within minutes. You receive a loan based on how much you earn, and lenders recoup the principal and interest from your following wages/salary/income.
Payday loans don't require a credit check. Payday loan lenders require you to be steadily employed and make enough each week to repay your loan. While a payday loan does not require a credit check, it can be expensive to take out, as the Annual Percentage Rate (APR) of the loan can be as high as 400%. The APR factors in the total cost of the loan, which includes:
The loan's interest rate
Any fees assessed for the loan
Length of your repayment period
If you have poor credit, your interest rates will be higher. However, a payday loan company will still charge pretty high-interest rates even with a fair to good credit score.
Car Title Loans
If you own your car, you can use it as collateral (a guarantee) for a car title loan. These are similar to payday loans because you won't have your credit reviewed. However, if you fail to repay the loan, the lending company will own your car.
Suppose you are confident you can repay the loan, including interest, within the repayment period. In that case, this may be a good option. However, remember that these loans assess high fees, up to 25% of the total loan amount, and usually have a very short (typically 30-60 days) repayment period.
Why Do Lenders Check Credit?
A credit check is vital for lenders looking to avoid defaulters. Every loan you borrow, including student loans, credit card debts, and house mortgages, is recorded. As a result, you'll build a more robust credit score when you repay the loan as required by its terms.
If you default or make late payments, you'll suffer penalties and a bad credit score. Lenders perform credit checks to assess the risk of loaning a specific client.
Credit checks allow lenders to determine if you qualify for a loan product and what the terms should be. Borrowers with a good FICO credit score will get higher loan limits and lower interest. Those with average credit will get lower loans with increased interest.
If your credit score is below 580, you may need help to get any loan since traditional lenders recognize borrowers with bad credit as untrustworthy. However, you can still qualify for no credit check products.
The Importance Of Knowing Your Credit Score
Knowing your credit score can help you when applying for loans, even if you prefer a no-credit-check loan. The more your credit is "pulled" or a hard credit check is run, the more it can negatively impact your score. Plus, some people may avoid going through a bank loan process when they need short-term cash.
The FICO Credit Score evaluates the credit score of individuals from exceptional to poor:
Exceptional: 800 or higher
Very good: 740-799
Good: 670-739
Fair: 580-669
Poor: below 580
If you obtain your free credit report and realize your credit score is below the "good" range, a no-credit-check loan may be the best option for your needs.
Improve Your Credit Score With Monthly Payments
For individuals with poor credit ratings, applying for multiple loans can decrease their credit scores further, as credit scores are affected if they receive multiple credit checks in a short time.
This can trap people requiring a loan, as they are stuck being unable to secure a loan due to their credit score, which is constantly decreasing. Applying for an online loan that doesn't require a credit check can bring individuals out of this trap. In addition, if the borrower makes the agreed loan payments on time, their credit score will improve.
Therefore, a no-credit-check loan is an excellent option for individuals looking to improve their credit rating.
No Credit Check Loan Requirements
In general, an individual with little or no credit history is a suitable loan applicant if they satisfy the following criteria:
Are 18 years or above in age
Have a permanent US address and are a US resident
Can provide valid contact details, such as a mobile number
Currently employed with a steady monthly income
Own a bank account for the direct deposit of the loan
Great For Emergencies
A short-term loan can help you get the funds for urgent needs. You might consider taking out a no credit check loan for many reasons. These include:
1. Medical bills
If you don't have insurance - or your insurance doesn't give you the coverage you need - then medical bills can get very expensive very quickly. Taking out a loan will get medical providers off your back, so you can focus on what's most important - taking care of your health.
2. Childcare
If you have a family, you know how important it is for all family members to be healthy and happy. When times are tough, taking out a personal loan is an excellent way to pay for their education or general living expenses until finances smooth out.
3. Business expenses
Starting your own business is challenging and has its natural ups and downs. However, you can use a no-credit-check loan to get a little extra cash for an important new project that could take your business to the next level.
4. Consolidating existing debt
Suppose you need help to keep up with multiple monthly payments from several creditors. In that case, you can use an online loan to pay them off, and then you only have to focus on making one payment.
Final Thoughts About No Credit Check Loans
Everyone makes financial mistakes in life, but unfortunately, sometimes those mistakes can limit you later. We know that your credit doesn't necessarily reflect your responsibility as a person, which is why we offer no credit check loans for our customers. This makes the approval process faster. You won't have to worry about hard inquiries that could further drive your credit score down.
FAQ
Can I get a loan if I don't have a job?
A steady income is a significant indicator of your ability to repay the borrowed amount. So it is a mandatory requirement for you to have a job to qualify for no credit check loans.
Do I need a bank account?
Yes, Online lenders will require you to have a bank account before accepting you as a borrower.
How will I know if I am approved?
Once approved, you will receive an email or text indicating your loan is approved. These notifications should arrive quickly, so keep an eye out for them.
Additional Personal Loans Resources: